Small Event Data Collection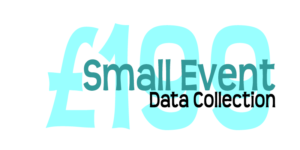 Are you holding an event, such as a course, wedding, meetup, etc. and want to collect applicants, guests? We have the perfect answer – for an affordable price you event can have it's own website, with corresponding domain and email address, where you can collect the data required. Simple, user friendly design to include contact form, brief summary, logo, 2 downloadable files (e.g. course prospectus, venue brochure, etc.) and the application form (online and downloadable).
The Small Event Data Collection Package costs £199 + £100 annual fee (if applicable)
The Website Layout
Homepage
The homepage will include a short description, promotional image/company logo and contact details.
-- More --
Contact
Visitors will be able to send you a message directly from a contact form on your website.
-- More --
Domain
We will secure yourdomain.co.uk (your name or other relevant and available option).

Email
We'll setup you@yourdomain.co.uk email address and advise how best to access your messages.

Hosting
The annual fee covers hosting and domain renewals and can be paid annually, or monthly payments of £10
-- More --
App form
Collect as much or as little information as desired.
-- More --
Need something tailor-made?

Variations on all of the above are possible, Contact us to discuss
a bespoke package built to your specific needs.